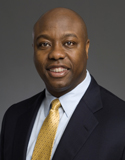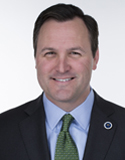 Today, the incoming House Freshman class had their orientation session where, among other things, they elected their leaders.
Pictured above are Rep. Tim Scott (top photo: Charleston County) and Rep. Dan Hamilton (bottom photo: Greenville County) who today were elected Chairman and Vice-Chairman, respectively.
With an incoming class of more than 20 members, they have the ability to make a lot of noise, if they work together, and if they understand they each cast a vote on issues just like every other member in that chamber.
The Speaker has paid an extraordinary amount of attention to this new class over the past few months, unlike any other class has ever received. There's certainly a lot at stake based on the turnover in the House and it will be interesting to watch which freshmen follow through on why their constituents chose "new blood" to send to Columbia and which freshman may quickly take the path of "go along to get along" in hopes of future internal rewards.
My suggestion to each one – remember why you were sent here and remember "Congaree Fever" is very contagious.
Welcome and congratulations to all!
Since we're talking about new members, I also want to also mention the "new era" in politics. As someone who continues to push for more sunshine and accountability in state government, I'm pleased to share that you can follow freshman Rep. Dan Hamilton on Twitter by going to his site . Of course, you can also follow me , Rep. Eric Bedingfield , and Rep. Shannon Erickson as well. Many of us will keep you posted with udpates from the House floor this year (along with the "everday stuff" that goes on in our lives as State Representatives, working folks, husbands, wives, parents, etc).
You can also follow freshmen Tim Scott, Dan Hamilton, Tommy Stringer, Joey Millwood ,Anton Gunn, and Boyd Brown on Facebook. (As well as me, Eric Bedingfield, Jeff Duncan)
To see the biographies on all the House members, click here. (Note: Only 123 members listed as there is an ongoing dispute/appeal filed in the Petterson-Hutto/Scarborough lowcountry race).