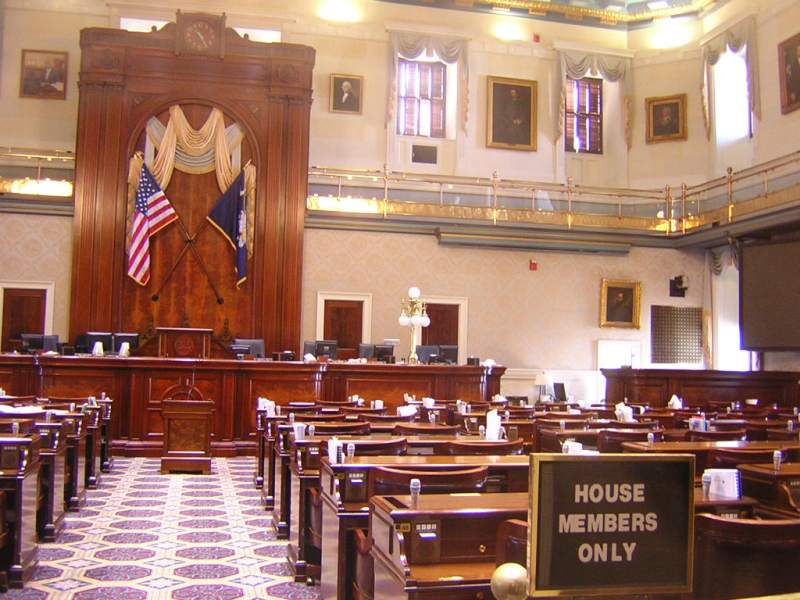 Earlier this month, the House had our Organizational Session where among "highlights" were members choosing new seating locations in the House Chamber as well as learning our standing committee assignment for the upcoming term. (Granted, changes can be made during the term but this is where we'll start 2013)
Freshman Members have been bolded. More information on the new members can be found by clicking here.
For those who want this level of detail, here you go:
Ways and Means : Jackie Hayes (D) and Leon Stavrinakas (D) fill the two vacancies after election losses to two incumbents.
Labor, Commerce and Industry : With Jackie Hayes move to Ways and Means, there were then 4 openings. Those were filled by: Todd Atwater (R), myself (R), Deborah Long (R) and Mike Sottile (R).
Judiciary : With Chairman Jim Harrison retiring last session, a new Judiciary Chairman was elected during organization session: Greg Delleney (R). With Leon Stavrinakas moving to Ways and Means; and with Mike Sottile moving to LCI, there were 8 openings to be filled. Don Bowen (R), Ralph Kennedy (R), Joe McEachern (D), Elizabeth Munnerlyn (D), Chris Murphy (R), Weston Newton (R), Tommy Pope (R) and Anne Thayer (R) were the eight members making the move.
Education and Public Works : With Atwater moving to LCI and Thayer and Bowen to Judiciary, there were 5 openings.Raye Felder (R), John King (D), Sam Rivers (R), Don Wells (R) and Donna Wood (R) make the move.
Agriculture, Natural Resources and Environmental Affairs : I enjoyed my time as Regulations Subcommittee chair but moved to LCI. Add McEachern and Murphy moving to Judiciary and there were 7 openings here. Heather Ammons-Crawford (R), Kirkman Finlay (R), Wayne George (D), Stephen Goldfinch (R), Kevin Hardee (R), Mandy Powers (D) and Robert Riley (R) round out the committee.
Medical, Military, Public and Municipal Affairs : Four moves created 7 vacancies. Long to LCI, Munnerlyn and Pope to Judiciary, and King to Education. Six of those vacancies have been filled with 1 spot left open (presumably for the new member elected to fill the void left by Rep. Tom Corbin moving to Senate). Beth Bernstein (D), MaryGail Douglas (D), Craig Gannon (R), Robert Ridgeway (D), Leola Robinson-Simspon (D), Mike Ryhal (R).
There were other changes in committees like Rules, Invitations, etc. but none bigger than basically the complete overhaul of the House Ethics Committee . By now, you've read where the House voted to appoint an equal number of Republicans and Democrats to this committee. The only incumbent member staying is Mike Pitts (R) who is joined by new Chairman, Kenny Bingham (R), Jenny Horne (R), Tommy Pope (R) and Murrell Smith (R). The Democrat members are Vice Chairman David Weeks (D), Chandra Dillard (D), Elizabeth Munnerlyn (D), Ronnie Sabb (D) and Leon Stavrinakis (D).
The House begins Tuesday, January 8th at noon. I'll try to write updates at least once a week and encourage you, as always, to give me feedback on upcoming legislation or ideas you have to improve our state!
I hope 2013 is the best year yet for your family and our state! It's an honor to serve the residents of Chapin, Dutch Fork and Irmo area!